Brief History of Phi Gamma Delta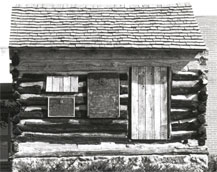 Phi Gamma Delta was founded May 1, 1848, at Jefferson College in Canonsburg, Pennsylvania by six undergraduate students, most of whom were members of the Franklin Literary Society. Phi Gamma Delta was first know as the "Delta Association", and it is generally accepted that after several informal meetings where the groundwork was laid, Phi Gamma Delta came into being at a meeting(s) held at "The Log Cabin" located remotely on the grounds of Jefferson College. The "Immortal Six", as they are referred to in our Fratenity because of their enduring legacy, included Messrs. Johbn Templeton McCarty, James Elliott, Daniel Webster Crofts, Samuel Beatty Wilson, Ellis Bailey Gregg and Naaman Fletcher. All were Masons and all were or later became lawyers, and all graduated with the class of 1848 save Brother Fletcher who graduated in 1849. The founders of Phi Gamma Delta, while conversing on the subject of association came to the conclusion that "a society founded upon the principle of secrecy into which none but men of distinguished talents and acquirements endued with a high sense of honor and possessed of a laudable ambition and who were members of some college (at the time of their admission) should be admitted, would be of incalculable benefit to those thus uniting, thereupon determined to organize and establish such an association, whereupon Mr. S. B. Wilson was called to the chair and N. Fletcher appointed secretary."
The founders were determined to launch Phi Gamma Delta as a topmost fraternity without delay. They set out to accomplish this at once by installing a chapter at nearby Washington College, and the offer was extended to new groups in other institutions, and within three years the "Delta Association" numbered five flourishing units. Of Phi Gamma Delta's first seventeen chapters, eleven were in Southern Colleges, which was a natural progression since the patronage of both Jefferson and Washington Colleges was principally from the South. Expansion of the Chapter list has been slow but sure, with some fitfull periods, but Phi Gamma Delta's growth ran roughly from its place of founding southward, thence up into the Middle West, thence eastward to New York, and New England, whereupon it soon forsook any certain plan and began to dart forth right and left, settling evenly in the outstanding colleges of the land. A truly national position occured in 1886 with the first West Coast Chapter, and international standing occured in 1923 with our first Canadian charter at the University of Toronto.
Today Phi Gamma Delta Fraternity consists of 148 Chapters, 13 Colonies, and 64 Graduate Chapters. The membership of Phi Gamma Delta consists of 180,000+ brothers initiated since 1848, and we have currently 10,000+ undergraduate brothers at colleges and universities in the U.S. and Canada.
The December 1968 Issue of Phi Gamma Delta - Phi Tau Chartering Event
October 26, 1968 marked the final step for our Chapter in the Chartering Process. Read the story and see the pictures of this historic event in the pages of this issue of "The Phi Gamma Delta" magazine garnered from the archives of our National Headquarters. The Phi Gamma Delta, December 1968
Brief History of the Phi Tau Chapter of Phi Gamma Delta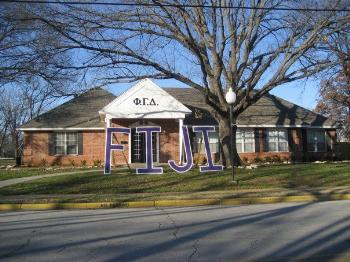 The early part of the 1960's saw the beginnings of Fraternity life on the Arlington, Texas Campus. At the time it was Arlington State College and was part of the Texas A & M System. There were no National Fraternities in attendance, but there were a number of local fraternities and sororities on campus that operated with some limited sanction by the college administration, one of which was Chi Chi Chi or as commonly referred to "Tri Chi". This group was formed by 13 men of common goals and ideals, primarily as a social fraternity. They were very successful in recruiting new members and held a position of prominance on campus, and high regard from the Dean of Student Life and other college officials. 1967 ushered in great changes for the college and for Tri Chi Fraternity. Specifically Arlington State College was moved by the Texas Board of Regeants to the University of Texas System and it became the University of Texas at Arlington. This hearlded an interest by many National Fraternities in colonizing U.T.A. and of course interest by the local social fraternities in gaining national status. Phi Gamma Delta, Phi Delta Theta, Delta Delta Delta, Kappa Sigma, Delta Upsilon and other National Fraternities were showing interest and began investigating U.T.A., additionally many National Sororities also began the colonization process. It so happened that the Ft. Worth Graduate Chapter of Phi Gamma Delta took notice of Tri Chi through some means now lost to history, and several prominent graduate members of that group began a dialog with the leadership of Tri Chi. That same year after the Bahamas Ekklesia Tri Chi ceased to exist and we became a Delta Colony of Phi Gamma Delta. Initiated members of Tri Chi immediately became Delta Colony "actives" and new pledges in the fall of 1967 became Delta Colony pledges. A little more than a year later our colonization period ended, and on October 26, 1968 we became the Phi Tau Chapter of Phi Gamma Delta. There have been many milestones over the fifty plus years since Tri Chi began and Phi Tau started, including our first lodge just off campus, our first house which was leased, and the house shown above which is owned by the Arlington Graduate Chapter and located on land leased from the University at 1111 Greek Row Drive, Arlington, TX 76013. Phi Tau Chapter of Phi Gamma Delta has produced 680+ initiated graduates, and has a strong undergraduate chapter at U.T.A. that is very active in university life. Next year we celebrate our 50th Anniversary.