The 2019 Annual Pig Dinner is Coming Up!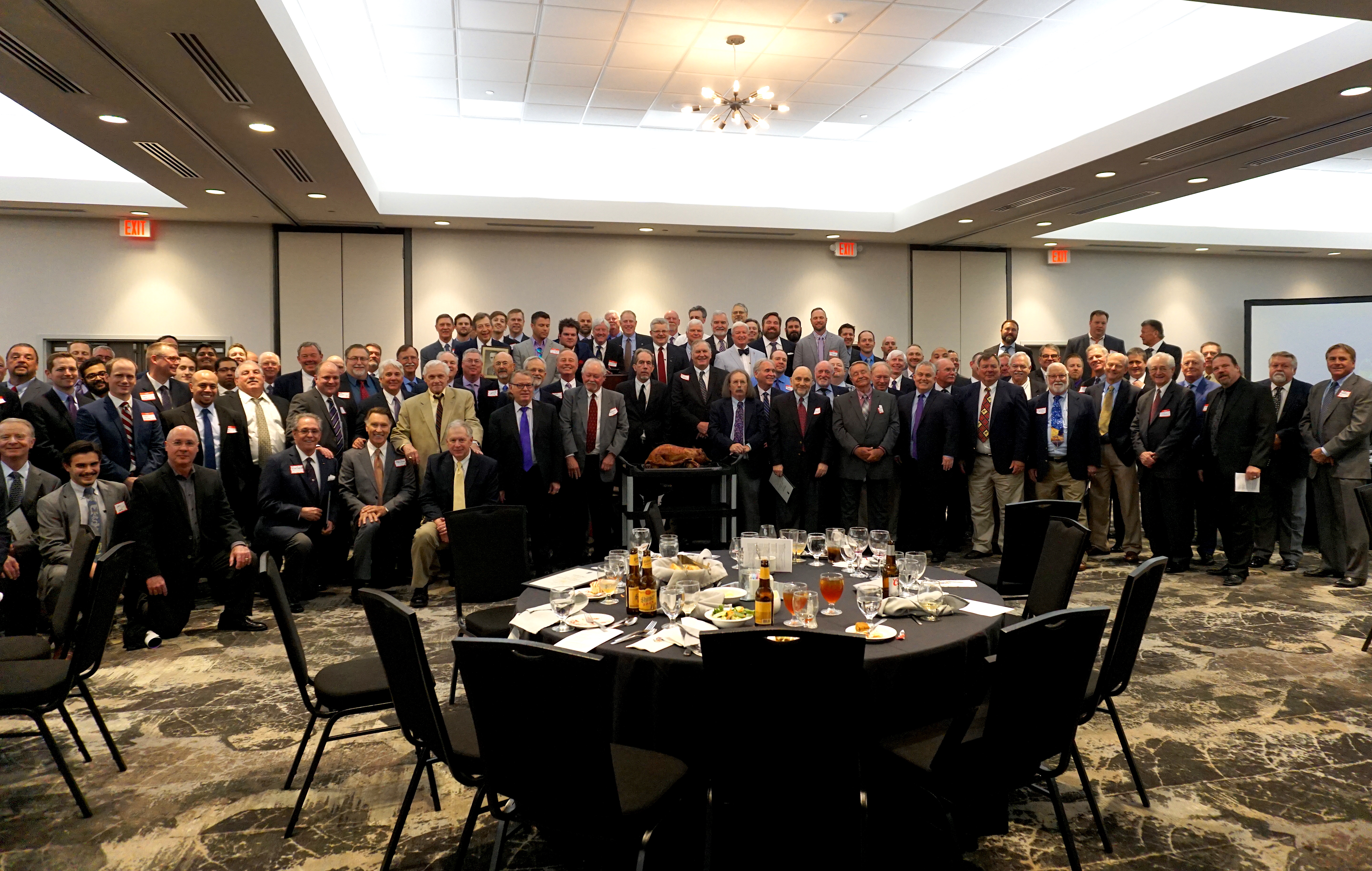 April 27th 2019 is the date for this years Pig Dinner and the Legal Draft Brewery (500 East Division St.) in Arlington is the location! Start time is 6 pm. This year we will be doing something a little different. It will be an informal affair, a casual gathering at an easy going venue. Next year will be a formal gathering again, and we intend to alternate each year between formal and informal. The cost will be lower ($50.00 per Brother) and the Legal Draft Brewery is said to be fun place which is not far from Grease Monkey and Gilligan's. Mark the date on your calendar and plan on an evening of fun and Brotherhood! If you have questions you can contact Mike Manion at mikemannion@kw.com or (817) 845-4030. History of The Norris Pig Dinner
50th Annual Norris Pig Dinner is over but not soon forgotten!
April 27th and 28th 2018 saw one hundred thirty Phi Tau Brothers and their spouses enjoy what many say was our best Norris Pig Dinner weekend ever.Friday was the scene of high scores and high spirits as approximately ten foresomes played the links at Rolling Hills Country Club in Arlington. Orsen Paxton was arguably the best dressed on the course (he didn't reveal his score card), John Warkenten exhibited a great game although the rest of us probably kept him from playing to his 6 handicap. Tom Wilhoite served as marshall and kept the pace going. The brotherhood was great, and the golf wasn't bad either!
Friday evening at Gilligan's was a wonderful event where Fiji's reunited with classmates which in some cases they had not seen in many years. Many of the wives met Fiji brothers that they had heard about in "good old days" stories, and all had a great time catching up on the intervening years. It was a great mix of old Fiji's, young Fiji's and a bunch in the middle.
Saturday afternoon marked the 50th Norris Pig Dinner of Phi Tau Chapter. Brother James Watson '72 served as Symposiarch and presented the Housing Corporation Report, Brother Rod Barber '68 offered the Benediction, Brother Orsen Paxton III '71 delivered "An Exile's Toast", and Brother David Quinn '87 remembered Brothers who have passed Ad Astra. One of the highlights of this Norris Pig Dinner was the presentation of a number of Golden Owl Certificates to graduates who have been members of Phi Gamma Delta for 50 years and this was handled by Brother Randy Kildow '70. Additionally several Brothers received their Silver Owl Certificates marking 25 years of membership!
Saturday festivities were capped off with a terrific cocktail party, complete with heavy hors de vores, a D.J. and max fun. It was, all in all, a very memorable weekend of celebrating fifty years of Phi Tau history! Lastly, it must be noted that Brother Mike Manion '81 deserves special recognition for organizing this great event. He spent countless hours, held many meetings, negotiated more than one contract, put his credit card on the line (in advance) several times, and no doubt sweated bullets over the details in order to make this happen. Thank you very much Mike - we owe you!
Brother David Chamberlain Recognized as Outstanding Fiji by the Archons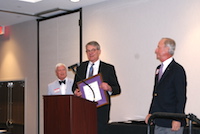 Brother David Chamberlain has been named one of six Distinguished Fiji's for 2017, and his award was presented at the Phi Tau 50th Anniversary Norris Pig Dinner with 130 fellow Phi Tau Brothers in attendance. The Archons established the Distinguished Fiji Award in 1964, and it is presented annually to no more than six graduated brothers who are deserving of recognition for their faithful and unselfish service to Phi Gamma Delta or their special contribution to mankind and society at large. Brother Chamberlain has had a long and outstanding legal career marked by his service to the State Bar Association, The Texas Association of Defense Counsel and the Texas Chapter of the American Board of Trial Advocates, not to mention that he has been named one of the Best Lawyers in America and for 12 straight years has been named a Texas Super lawyer in Texas Monthly Magazine.. For more of the story about Brother Chamberlain click here.